Dillo Day Canceled After B.o.B Unexpectedly Raptured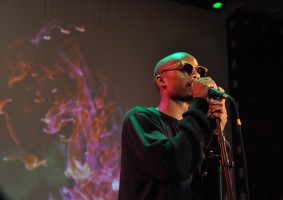 EVANSTON – Having failed to find a suitable replacement in time, Mayfest organizers have been forced to indefinitely postpone all 2011 Dillo Day events following the sudden, unexpected disappearance of headliner B.o.B. Following a press release from B.oB's manager, it has become clear that the popular rapper was one of the approximately 200 million Christians lucky enough to be welcomed into the radiant embrace of the Lord Almighty, an outspoken fan of B.o.B's breakthrough hit, "Airplanes."
"Although we apologize for the inconvenience to Northwestern University," Adrian Levy, President of Grand Hustle Records read in a prepared statement, "we hope that you will join us in wishing B.o.B all the best in his future endeavors. This is quite the career move."
Students reacted to the news with varied degrees of disappointment and downright agony, their heathen souls already plagued by the forces of Satan prior to their destruction and eternal damnation.
"It's torture! It's inhumane!" shrieked sophomore Jackie Thomas. "Satan told [Battle of the Bands winner] whysowhite that they could play a double-set! Oh, God, my ears!"
Others expressed anger at rumors that B.o.B's ascension into Paradise came at the expense of another, more deserving human who had to be left behind. To find the answers to their questions, the ascetics turned to Jesus.
Jesus, who has been personally overseeing the destruction of Earth, could be found sitting in Norbucks.
"Why must Liu Xiaobo languish in a cell while B.o.B frolics in a land of everlasting peace and joy?" local atheist Alex Mercer asked between debilitating stints in an iron maiden.
"Look," Jesus replied coolly, "my dad's been working almost 6000 years without a break. If he wants a private performance of "Nothin' On You" for the rest of eternity, well, I think he's earned some time off."