Neutrino Discoveries Good News for Nintendo 4DS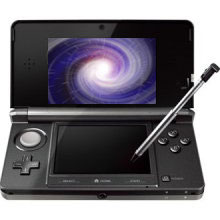 Time Travel Gaming in Nintendo's Future

REDMOND, WA – CERN's highest-paying investor, Nintendo CEO Satoru Iwata, is hoping to harness the newly discovered power of the neutrino for the chance to realize his latest dream: the 4DS.
This not-so-hush-hush project arrives on the coattails of a declining interest in Nintendo's last handheld console, the 3DS. In the face of plummeting sales, Nintendo decided the fourth dimension–time–was their best bet.
An American focus group, comprised mostly of 13 to 21 year old men deeply interested in Doritos, noted a "severe lack of 'D'" as one of the reasons they wouldn't be spending their Xbox Live money on the latest handheld device.
An anonymous member of the focus group told market researchers that he "want[ed] to be able to grope Princess Peach, not just look at her in a third dimension."
A company representative stated that while the company has no plans for virtual reality gaming, they are looking to make it possible for 4DS users to create time paradoxes to their heart's content.
Nintendo has also made it clear that it cannot guarantee that the system will be completely safe, or that players will be restricted from killing – and then becoming – their own grandfathers.
No matter the implications, the 4DS looks to be several quantum levels above the competition as far as time-travel gaming is concerned. Sony has yet to release the results of reported attempts to create a fully functional TARDIS, while Microsoft is still negotiating with Libyan nationalists for enough plutonium to fuel their flux capacitors.