Authorities Fail to Confine Santorum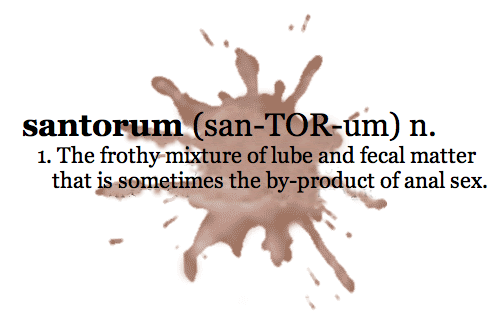 WASHINGTON, D.C. – Rick Santorum has made good on one of his campaign promises even before the end of the Republican primaries. On October 10th at approximately 2:30 pm, John Boehner slammed his gavel, passing a new bill banning anal sex in America. Santorum, a former Pennsylvania Senator and current presidential hopeful, suggested the legislation to current Congressmen. Republicans pushed hard and were just barely able to slide the ruling through.
In the ensuing press conference, former Senator Santorum was quoted as saying, "Today, America's parents can finally begin to sleep soundly, knowing that I, Rick Santorum, am watching the asses of America's youth."
Shortly after this public appearance, Senator Santorum was made aware of a warrant issued for his arrest regarding a clause in his bill. According to Article 3, Section A, "…on the passing of this bill, the dissemination of any idea relating to or promoting the idea of a foreign object entering the anal cavity of a human shall be deemed illegal and punishable under the full extent of the law." Unfortunately for the politician, he only learned after the passage of the bill that according to a cursory Google search, "Santorum" is defined "The frothy mixture of lube and fecal matter that is sometimes the by-product of anal sex."
Acting quickly and zealously to enforce the newly passed law, police ordered a full-scale raid of the candidate's office building in order to apprehend the ex-Senator. Rick Santorum was nowhere to be found, though a few staffers claimed to have seen him squeezing himself into an air vent, using his own sweat as a lubricant to slide him through. Most of his clothing was found in his office. Cameras recorded a mostly-naked Santorum jumping into the sewer system at around 6:30 p.m. that night.
Since the warrant for his arrest was issued, Santorum has been all over the news and is brought up frequently on network television. Since catching a whiff of recent events, many mainstream Republican commentators have turned their backs on their former "golden boy" and regularly spew execration at him. Bill O'Reilly, once a staunch ally, has condemned the conduct of the former presidential hopeful. "Santorum is the product of a sullied taint that has been hanging over the nation for years," raged the pundit on Tuesday. "How could our society have produced slime as filthy as Santorum? This matter should be on the brain of every conscientious man in the country."
The hunt for the politician is still on. Despite days of legwork, the authorities still have yet to produce Santorum. Police are offering a $10,000 reward for any information leading to the capture of the former legislator.
District of Columbia Chief of Police Cathy Lanier released a statement this morning: "Santorum has flown after penetrating the nation's most tightly-protected bastion, staining the dignity of this police force. I urge any citizens with relevant information to come out, like true patriots."