Yankees Pull Total Dick Move on Red Sox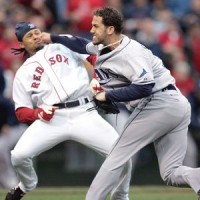 BOSTON – Major League Baseball's investigation of the New York Yankees has finally concluded, with the official report ruling that the Bronx Bombers are still total douchebags.
This examination came at the request of the Red Sox, who would not stop bitching about their historic September collapse.  Believing that the Yanks fixed their regular-season finale against the Tampa Bay Rays, team representatives sent a formal request to commissioner Bud Selig, who was pleasantly surprised to learn that the playoffs had started.
Tensions were running high throughout all of last week. Following the Yankees/Rays game, Boston general manager Theo Epstein spoke out, bringing allegations of under-the-table dealings on the part of the New York management.
"They clearly threw the game. That was such a dick move," Epstein remarked.
Northwestern alumnus and Yankees skipper Joe Girardi was quick to counter the accusation, explaining to reporters that he was simply honoring New York's "proud century-old tradition of selfish assholery."
"I wasn't raised to fix games! It's not in my DNA!" said Girardi. "We were a lock for the playoffs, so we stopped playing our stars. By God, when the Yankees fuck Boston over, we fuck 'em over right," he said.
The results of the investigation were released publicly last night.  Upon hearing that Boston planned to appeal the decision, Yankees slugger Alex Rodriguez addressed the media.  "Sucks to suck!" the once-relevant infielder shouted.
When asked who should be responsible for the nightmarish end to the season, Boston second baseman Dustin Pedroia spoke to the press from a high-chair.  Pedroia said, "you've gotta tip your cap to those guys, this team will definitely bounce back, it is what it is," and other annoying baseball cliches. Sources say the All-Star second baseman had been drinking since the third inning.
The investigation also exposed a shocking new development to sports fans across the country: For the first time in decades, the Baltimore Orioles have been demonstrated by field researchers to actually exist when baseball matters. In response to learning this, Orioles' slugger Nick Markakis said, "Wait, seriously?! Who would've thought?"