Gothic Rock Band "The Flying Buttresses" a Soaring Success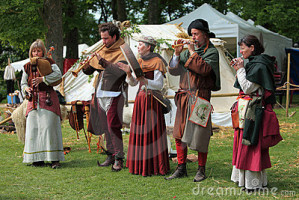 HAMBURG, Holy Roman Empire – From the far West of Berlin to distant East Amsterdam, the entire world is up in arms over the hellfire hot new band The Flying Buttresses. With a repertoire full of popular ballads like "Hey You, Get off of My Pew," "Us and Him," and "I've Got 95 Theses but a Byzantine Ain't One," The Flying Buttresses are the most successful band in the Empire since The Painted Glass.
The Flying Buttresses have vaulted to the top of the charts thanks to young Bohemians and God. Bill, a blacksmith, is just one fan among the legions of TFB enthusiasts.
"These guys rock harder than my anvil," quoth Bill. "They're not afraid to go dark."
"They're totally bubonic," Bill addeth.
The critics are also jumping on the Buttress wagon. Balthasar Hayworker, a serf known for his cast-iron pitchfork and acute taste, raves about such singles as "I Can See for Isles and Isles," "Pumped Up Knickerbockers," and "Smells Like the Holy Spirit." The man on the corner holding a slate agrees.
But not all of the Empire has been converted to following the TFB. Horatio Hamburger, Hamburg's eldest councilman, complained that The Flying Buttresses are just a bunch of rabblerousers.
"Kids these days," quippeth Hamburger, 34.
Rumored titles on their next album include "Gaining My Religion," "I'm Too Vaulted for My Ceiling," "I'll Meet You in the Vestibule (It's Going Down)," and "Oh My God"