Franz Ferdinand Chased out of Town by Pitchfork Magazine-Wielding Mob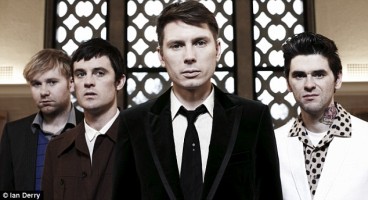 YORK, MI — The independent rock group Franz Ferdinand was chased out of the town limits of York, Michigan by a rowdy throng of Pitchfork Magazine-wielding townfolk, who shouted disorderly insults at the band and chased them all the way to Saline.
"In the year 1959, the groundbreaking suspense-thriller and Hitchcock classic North by Northwest took the American cinema culture by storm, taking on issues like sexuality and pioneering the concept of a spy thriller long before they were accepted in the mainstream film industry," shouted one angry protester. "But the allusions to said work in indie rock group Franz Ferdinand's new album fall flat in the band's disappointing senior effort that, while compelling in its instrumental experimentation, comes off as an ultimately uninspired attempt to recapture the magic of their near-flawless debut!" the demagogue yelled as a rallying cry to other protesters as they chased the band down Main street.
Other members of the mob voiced such vicious diatribes at the musicians as "this does not bode well for the future of Franz Ferdinand as the groundbreaking rock band they had the potential to become," and "the production, while lush and experimental, is ultimately overwrought and overdone."
At press time, reports had just surfaced that the lead guitarist of Franz Ferdinand had been beaten to death by an A.V. Club-wielding protester.