Big Ten Announces New 8 a.m. Start Times for Northwestern Home Games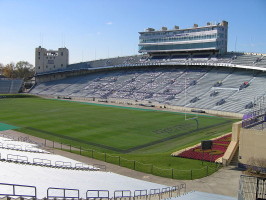 PARK RIDGE, IL — The Big Ten announced Monday in a press conference that all Northwestern home football games will now start at 8:00 a.m.
"We saw how successful 11 a.m. games at Ryan Field were in terms of fan attendance, so we thought, 'why not make them three hours earlier?'" Big Ten Commissioner Jim Delany said.
Northwestern Vice President for Athletics Jim Phillips approves of the change. "I especially think this move helps the student fans. They're already used to waking up for 8 a.m. classes, and messing up their sleep schedules would be irresponsible, especially with midterms right around the corner all season long," he said.
Many of these student fans had strong opinions on the time change.
"Northwestern has a football team? I only know studying. Studying is all I know," sophomore Jack Roseburg, MEAS '18, said.
"Sports is not study. Study is study. I will study now," junior Abby Glendale, WCAS '17, said.
Before leaving the press conference, Delany had something to say to skeptics who maintain that 8 a.m. is too early.
"Don't give me that bullshit that 8:00 in the morning is too early for students to get up on the weekends. They seem all too eager to get wasted at sunrise on Dillo Day, so they should have no problem doing that for football. Maybe if we told them that Odesza or 2 Chainz was going to be at Ryan Field, they would actually take advantage of free admission to see major conference football games."