Dorm Groundbreaking Uncovers Graveyard of Student Hopes and Dreams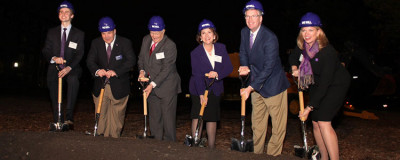 EVANSTON – Upon breaking ground for the construction of a new undergraduate dormitory this past week, construction crew members were shocked to find they uncovered a graveyard of student hopes and dreams.
The contractors in charge of the building project were unaware that they were building over this graveyard, a spot where students have been burying their hopes and dreams since the Cold War. At a time when it was already in vogue to use subterranean bomb shelters for protection, students decided it would also be a good idea to have a subterranean graveyard to protect themselves from their failures ever haunting them again.
President Morton Schapiro was particularly disturbed by the whole spectacle. "It was such an exciting day, but as soon as we started digging, the ground just opened up and out flew the ghosts of student dreams past, present, and future."
He went on to say, "College students have a lot of things to juggle, but I never thought things were consistently this bad." Schapiro nevertheless admits that he himself was no stranger to this graveyard, saying, "I buried once or twice back in my day."
Trustees observed that students used headstones to mourn and commemorate their crushed aspirations. Sentiments ranged from age-old qualms such as "Here lies my hopes of ever becoming a circus-performer" and "Here lies my hopes of a business degree landing me a job" to more modern grievances such as "Here lies my failed tech startup" and "Here lies the chance of me graduating without debt."
When asked how this undercurrent of student despair could ever be rectified, Schapiro looked down and gave a defeated sigh, "CAPS, bro."