ISIS Claims Responsibility for Student's Panic Attack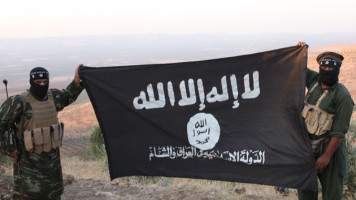 EVANSTON – The Islamic State has claimed responsibility for junior Nick Floyd's panic attack today, multiple sources have reported.
Social media accounts linked to the terrorist group posted a statement that in part read: "let this attack be a message to all infidels and pre-meds: no GPA is safe from our jihad!"
Floyd, WCAS '17, was cramming for a midterm in University Library when the attack occurred around 3:25 P.M., several bystanders told Flipside reporters.
"I always knew they were barbarians, but now I have seen first-hand the atrocities ISIS is able to commit," said one anonymous student who witnessed the event. The student says she saw Floyd abruptly stop doing his work, fall onto the floor, curl up clutching his knees, and start slowly rocking back and forth as he broke out into a cold sweat. Rumors that Floyd also began murmuring the lyrics to Bob Marley's "Three Little Birds" could not be independently verified.
Northwestern police quickly arrived on the scene to secure the area, and Floyd is believed to be in stable condition. However, major stock indices dipped markedly as news of the attack broke, while President Obama has urged for calm and unity in a statement released to the Flipside.
"We must stay vigilant against ISIL-induced panic attacks. Northwestern students must study long before tests and balance school work with sleep and relaxation to help defeat these insurgents. We must remember that there is no final exam too hard nor curve too low to shake the American spirit," the President said.
Many experts have speculated as to what the attacks could mean for the group's strategy.
"Sources within the intelligence community have long thought that ISIS had the means of carrying out such psychological warfare, but this attack signals a newfound dedication on the part of the militants to cripple key areas of Northwestern students' mental stability, including self-confidence, time-management, and the ability to relax," CIA national security consultant Peter Schulte said.
Northwestern students are especially vulnerable to panic attacks like this, Schulte says. "A school populated with intensely competitive intellectuals that uses the quarter system and has shitty weather becomes the perfect breeding ground for panic attacks, and ISIS has unfortunately taken advantage of this."
In an ominous postscript to its statement, ISIS also promised a new wave of panic attacks during finals week. In response to this threat, Northwestern professors have expressed their sympathy for students but plan to hold all exams as scheduled.