Government Shutdown Effectively Ends Racism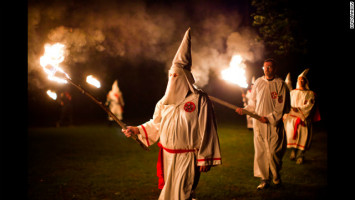 GETTYSBURG, PA — In a sudden turn of events, the government shutdown has become the best thing to ever happen to the United States. By closing all national parks, the Ku Klux Klan was forced to cancel their rally in Gettysburg National Military Park. As a result, the shutdown has ended racism.
Lost without a means to channel their hatred and ignorance, Klan members wandered back into Gettysburg stunned and dazed. Upon entering a small café, several prominent members were waited upon by Lafonda Brown, a kind black woman native to the area. When the special was served (fried chicken and watermelon), the formerly racist men officially denounced their old ways.
"That rally getting cancelled just totally threw me off. I didn't have a way to express my hatred. I guess I just gave up on hating people," confessed one member, Lloyd Dixon, an 18-year old from Mississippi who has been a Klan member for nine years. "I remember when we used to go lynching for fun on a Saturday night. Just doesn't seem worth it anymore."
Speaker of the House John Boehner expressed his disappointment that shutting down the government turned out to be so successful. In a recent tweet, Mr. Boehner announced, "Damn black president can't even do nothing without making it all about blacks." Mr. Boehner refused to comment further, but photos surfaced of the GOP leader crying and destroying copies of Alex Haley's Roots.
"I guess the last thing we had to deal with was what to do with all the old hoods and robes," said Dixon as he browsed Ebony magazine. "My dad and I are making them into Halloween costumes. My sister is going this year as a white crayon. My brother is going to be a sperm cell."