Winter's Bone First Porno Nominated for Best Picture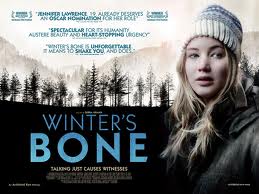 Winter's Bone: 2/4 star-shaped pasties
Winter's Bone tells the story of a teenage girl trying to find her daddy to save her house. Yeah, thats right, who's your daddy, girl. Great start. Then some shit happens and a cop comes. This is where you expect it to start getting heavy, right? Nope! Instead of ripping off his uniform and taking her "downtown," he just warns her that her dad needs to show up to court. 
Ok, so when's the winter bone going to happen? 
She walks around the neighbors house and finds some fat old neighbors. Is this it? Nope, they just tell her to get off their lawn.
So now they've set it up all nice and good waiting for the titular bone. What comes next? She throws on two more sweaters; that's three more than you really want her to be wearing.
Ok, so now comes the dangerous part where there's four guys and her. They beat her around a little bit (not my style, but you know they have to appeal to everyone's tastes) and tie her up. Then her uncle comes… and that's where I drew the line. Bondage? OK. Incest? No way. The only type of incest I can handle is Incest-ption. That shit blew my mind, and some other organs as well.
Towards the end of this hour-and-a-half-long movie she finally starts taking some clothes off to fish some crap out of a lake. She even rolls her sleeves up, hot damn! She grabs a human hand or something… and the movie ends.
In my opinion, the filmmakers definitely focused too much on the "winter" and not enough on the "bone." Still, should it win Best Picture? Does it have Mila Kunis and Natalie Portman making out? The answer is no.