Martin Luther King, Jr. Day Causes Annual Peak In White Guilt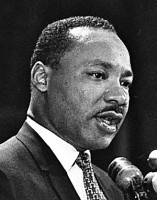 EVANSTON – This past Monday, Caucasian students all over Northwestern's campus banded together to feel collectively uncomfortable as the nation celebrated Martin Luther King Jr. Day.
While a service day on Saturday and a Monday night vigil were held in King's honor, the biggest tribute to his legacy was the multitude of slight sensations of guilt held within the hearts of all the privileged Aryan Northwestern students.
"I spent the whole day feeling a vague sense of unease. Maybe I'm not feeling guilty enough. I don't think I'm racist?" Anne Parr, a Medill Sophomore, commented.
Some noted that the day made them more wary of bumping into black students on campus and more uncomfortable being in front of "someone of color" in line for Jamba Juice.
"I definitely jumped up to give my seat to my friend Antoine on the campus shuttle. It's the least I could do, right?" Ben Schroeder, a junior who swears he's going to take an African history class next semester, said.
While barely 18% of the guilt-ridden students actually attended the day of service or the vigil, 68% vowed they were going to attend "one of those NUCHR things" in the near future.