Northwestern Finally Breaks Top 10 in Sporcle College Rankings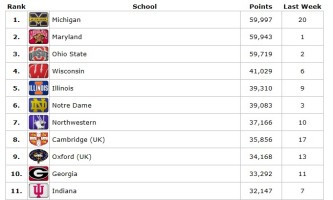 EVANSTON – The online quiz site Sporcle.com released its weekly college rankings Monday, and Northwestern University was for the first time in the Top 10.
"While the number 10 is really not much different than, say, 12 or 13," explained Northwestern President Morty Schapiro in an email to students sent at 2:00 AM, "it represents a symbolic victory in our decimal-based society. Let us celebrate our recognition as a top-tier school, where our students are able to name the US presidents, type the numbers 1-100, and identify the countries of Europe."
Weinberg sophomore Alex Chen, a self-described Sporcle-addict, was quick to taunt some of Northwestern's fierce competition in the rankings. "Screw you Georgia! We showed you what's what! And watch out Vanderbilt, we're coming for ya. GO 'CATS!"
While the Sporcle rankings are recalculated weekly, with schools often moving from a lofty place in the top five to being unranked at all in less than a month, the Northwestern community has not hesitated to revel in its accomplishment.
Mayor Tisdahl cited Northwestern's success in the rankings as one of the reasons for allowing the Keg to reopen. "Our city's university has demonstrated success in these national, competitive mentally stimulating diversions. This could only have been possible if our students were responsible and hard-working. I decided that this meant our community was mature enough to handle beloved sources of debauchery like the Keg."
In order to facilitate continued success in the Sporcle rankings, Norris will be offering a mini-course designed to help students achieve on the website. Lessons include "The Basics of Anatomy: Three Letter Body Parts" and "The 200 Most Mentioned Harry Potter Characters: Mnemonics are Fun!"