[Roaring '20s Issue] NU Students Vote to Divest from Whale Oil, Double Down on Coal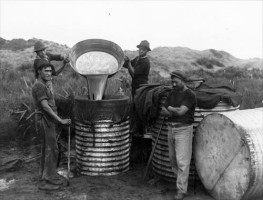 EVANSTON — Students from NU's center for social activism, the Millard Fillmore Institute, brought a ground-breaking proposal before the ASG senate this past week to divest Northwestern's endowment from whale oil companies. The proposal follows from successful earlier measures brought about by the institute to disinvest from the East India Trading Company and the elephant poaching industry, and its primary authors, Engineering Senior Grahame Weathersby and Arts and Sciences sophomore Millicent Price, say that they hope the bill will protect the North Atlantic right whale from extinction.
"Our nation is at a crossroads," Weathersby told The Flipside in an interview at the Norris Center soda fountain, "and our fair university stands to make a powerful statement. We cannot continue to burn whale oil at its present rate without incurring grave environmental consequences."
"As individuals, we can make little changes," Price added. "We can snuff our lamps and get rid of our whalebone corsets once and for all, but we need to take collective action if we are to preserve the right whale species for future generations."
In presenting their bill to the ASG senate, Weathersby and Price stressed that as its future leaders, Northwestern students have a special obligation to set a precedent for the rest of the nation to follow, but even so were met with significant opposition. "I've already been told I can't import an ivory statue for the Sigma Nu Omicron Beta foyer," lamented fraternity president and ASG Senator Bradford Huntington Wellesley III, "and we were forced to cancel our 'Imperialist Bros and Native Hos' mixer with the Quad-Delts. Now I'm told that Northwestern should divest funds from the life-blood of Newport, Rhode Island. Where on earth will I summer?"
While consensus on the issue was far from unanimous, ASG did approve the proposal, which was passed on to the faculty senate. University President Martin Schafer, though, appears to have lost his inkwell, and at press time the bill remains unsigned.
"I'm just so excited NU has been able to unite behind this progressive move," Weathersby stated after hearing ASG's decision. "Now we can reinvest those funds in the energy of the future: coal. And thank goodness the automobile has taken care of that awful horse-and-buggy manure problem."