National Spelling Bee Winner Celebrates by Eating Knaidlach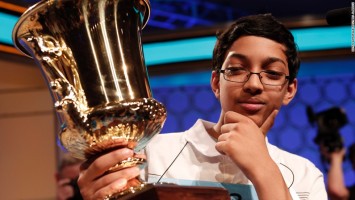 BAYSIDE HILLS, NY — The 13-year-old winner of the Scripps National Spelling Bee, Arvind Mahankali, celebrated his victory by eating a bowl brimming with knaidlach, a type of dumpling eaten mainly during Passover, and the plural version of the Bee's winning word.
"I was so happy when I won," said Mahankali, a cymotrichous1 boy whose wavy hair has captured the hearts of would-be spellers across the nation. "Knaidel isn't even that hard a word. Did you know that last year's winning word wasn't in the OED? A word like that would have been a real guetapens2 for me."
As the congratulatory confetti fell from the ceiling, Mahankali called for a stromuhr,3 fearing his blood pressure was dropping dangerously. "We had to check. It's always better to be safe than sorry."
At 13, Mahankali is no Laodicean.4 He plans to use his new fame to influence elections in his area; he will endorse whichever candidate will best improve public education. "It will be their guerdon5 for good policy," explained the precocious speller.
Mahankali's own guerdon for winning the Bee includes prize money and scholarships. "I'm going to buy a serrefine,"6 he said. "I want to be a surgeon, and that small clamp for arteries will be a perfect reminder of my goal. My Scripps win will undoubtedly fulfill me for the rest of my life, but now that I know all the words, I will need something else to keep me busy for the next few decades."
"I'm not going to let the hours I spent learning the Ursprache7 go to waste," the determined student concluded, his voice lilting with appoggiaturas,8 by no means an autochthonous9 pococurante,10 possessing the prospicience11 and demarche12 to reap success without the use of a succedaneum.13
1 Scripps National Spelling Bee Winning Word, 2011
2 Scripps National Spelling Bee Winning Word, 2012
3 Scripps National Spelling Bee Winning Word, 2010
4 Scripps National Spelling Bee Winning Word, 2009
5 Scripps National Spelling Bee Winning Word, 2008
6 Scripps National Spelling Bee Winning Word, 2007
7 Scripps National Spelling Bee Winning Word, 2006
8 Scripps National Spelling Bee Winning Word, 2005
9 Scripps National Spelling Bee Winning Word, 2004
10 Scripps National Spelling Bee Winning Word, 2003
11 Scripps National Spelling Bee Winning Word, 2002
12 Scripps National Spelling Bee Winning Word, 2000
13 Scripps National Spelling Bee Winning Word, 2001