[Tabloid Issue] Career Porn: Steve Carrell Gets to Be in Movies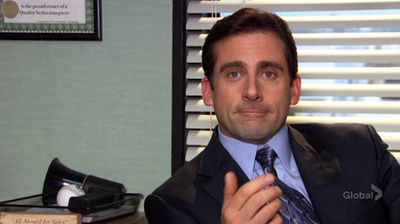 Because food porn and regular porn don't make you feel bad about your life until you're finished watching, The Flipside is proud to present an inside look at the amazing careers that you can never hope to aspire to. This is Career Porn.
When you type the word "porn" into the Google search bar, the next two words you type are never "Steve Carell." America's Nice Guy starred in The Forty-Year Old Virgin and not The Forty-Year Old Porn Star, but there's no denying that Steve Carell is at the top of his career porn game: his résumé will leave you sobbing and screaming "sweet Jesus" in the middle of the night.
You would kill for his career. You would honestly murder another living being.
Like most of the sexiest career porn stars, Steve Carell got his start at Second City, where he worked with Wildcat Stephen Colbert. Those Steves double-teamed Chicago hard enough for a sweaty producer named Jon Stewart to notice. He promised them he could put them in "movies."
The Office was such a massive success if you turn on TBS right now, you'll probably hear Steve saying that's what she said within the first 30 seconds. But syndication, riches, and critical acclaim just weren't enough. Steve Carell pulled a LeBron, taking his talents to children's entertainment. Massive success followed yet again. Steve Carell and his sexy career are just that irresistible, even if his cartoon voice sounds like Arnold Schwarzenegger on helium.
Oh, you made Deans' List one quarter? That's really awesome. We're all really proud of you.
For teenage comedians and actors, Steve Carell's Oprah Magazine photoshoot replaced the playboy under the mattress. Steve Carell gets to be on national television. You try to look cool by misquoting his Anchorman lines to your friends almost 10 years after the movie came out. So as you continue watching your life spin endlessly out of your control, just ask yourself: WWSCD? What Would Steve Carell do?
Of course, Steve Carell never needs to ask WWSCD. His life is perfect.