[Denial Issue] Gone Greek Night Provides Wholesome, Greek Family Fun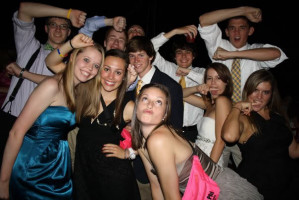 EVANSTON — Once every calendar year, pledge daughters and sons alike share a night of old-fashioned, wholesome family fun where members of the Greek community come together to celebrate the common values that unite our chapters.
Gone Greek Night is a hallowed tradition of Northwestern Greek life. It first welcomes new members with artfully orchestrated renditions of pop songs, which don't degrade female sexuality in the slightest. (We're going down; we're yelling QuadDelt!) Then two chapters partnered with only the best intentions embark on an educational field trip to a family establishment somewhere in the culturally rich environment of Chicago.
Gone Greek Night offers a low-pressure environment in which no one will engage in any illegal or immoral activities, as well as an opportunity to discourage the misconceived stereotypes of Greek life.
When PHA trolls the halls of the sorority houses, they won't find any bottles of cheap white wine hidden in Urban Outfitters bags and when IFC checks… well, IFC doesn't need to check anything. Flasks won't be passed around school buses and no one will hand off Long Island iced teas in a Ford-esque assembly line. There won't be anyone in the bathroom scrubbing the Xs off his or her hands. Girls won't cast off their shoes (the ones that are so comfortable) in a complete violation of basic restaurant health codes. No one will sneak out of the venue to hit up the McDonalds down the street. There will be no dance floor make-outs, or at least no awkward ones, and definitely no hooking up on the ride home. People will not fall down the bus steps, except maybe that one girl who's just really clumsy.
Most importantly, no one will get called into standards; the entire chapter will merely enjoy an opportunity to learn about risk management and basic human decorum.
It's a night without any regrettable decisions and all will look fondly back on their Gone Greek Night experience as one of youthful innocence, chastity and complete sobriety.