[Denial Issue] We Tried Really Hard to Deny It, but ASG Still Sucks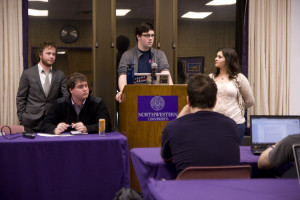 EVANSTON — In a week where all flaws of Northwestern were glossed over, reporters of The Flipside were baffled to realize that nothing can smooth over the abyss of Associate Student Government.
There's no denying it: ASG outright sucks.
"I wanted to try the utilitarian approach and see if they managed to accomplish something useful for the community as a whole," said Flipside reporter Anna Flintoff. Flintoff noted that the university administration did increase the number of frostbite express buses after a stern letter to the editor written by ASG leaders, only to be reminded that the bus drivers were never instructed to actually stop for students to be picked up. "I guess they had good intent, but it was still a pretty bad blunder on their part."
"We considered the role of ASG as a way to introduce students to civic life in a democratic society, but none of the representatives are elected," Flintoff added after discovering that even the dorm representatives must make it through an interview before taking office. "Seriously, how are Northwestern graduates supposed to prepare for real local elections where we have to vote for school board members, water district leaders, state and county officials and each individual judge, just to name a few?"
The editorial staff of the Flipside, who were instrumental in proposing the theme as a practice for their university tour guide applications, eventually conceded that glorifying ASG based on factual aspects was impossible.
"I mean, they fund us," said an anonymous member of the Flipside editorial board. "But even I'm not sure whether that's a wise use of university funds."