[Denial Issue] The Best Ways to Get Toned and Tan for Spring Break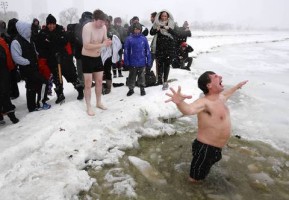 EVANSTON — The sun is shining (watch out for albedo-burn), birds are chirping (in the movie your film major roommate is "analyzing" while you live out the real-life horror story that is second quarter orgo), and springtime is right around the corner (worst joke ever Punxsutawney Phil)! That means it's time for new clothes, actual workouts, and a flood of sun-soaked selfies of besties/bros laying out/bro-ing out at Keystone-fueled bacchanals from Daytona to the Dominican Republic on your Facebook newsfeed.
While your high school friends flee frigid 40°F temperatures at their respective institutions of higher learning, you can rest easy knowing that you made the right decision; there's nothing quite like springtime in Chicago to warm the body and soul. That doesn't mean that the shift from winter to spring won't be a shock, but don't worry Wildcats, The Flipside is here to talk you out of hibernation.
The first thing you need to worry about is your spring break body. Skip the elliptical and dig into that Ben and Jerry's core, because you'll need a solid layer of blubber to sport spring's latest trends before it breaks 45°F in June. Tried and true techniques for developing a shapely layer of insulation include incorporating Cheesie's into your diet at least four times a week in addition to six small meals of truffle fries from newly opened DMK Burger and Fish on Noyes St throughout the day. In extreme cases, supplementary Nutella shakes from Edzo's can be used under careful supervision from your roommate, who promises you don't look fat.
And don't forget about sun protection! Wind and albedo-burn may look sad and uncomfortable now, but just wait ten years until your weather-hardened flesh is crisscrossed with premature wrinkles and direct sunlight causes you physical pain. Ski goggles and balaclavas provide great coverage and can act as adorable accessories alongside springtime favorites like hair ribbons and sundresses. For protection from the full UV-spectrum, however, dermatologists recommend either staying in a windowless study room in Mudd Library (or, if you're a senior, under the covers in your apartment) until June.
So happy spring, Wildcats! Either love or the quasi-concerning odor of Kresge Hall as it slowly decays is in the air. Go ahead, break out your mid-weight sweater, and get ready to take your skin tone from alabaster to porcelain.