What Tour Guides Don't Say: Dining and Housing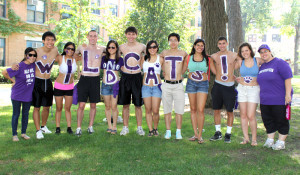 It's the time of year when Northwestern's tour guides–who have toiled endlessly all year–can be put to pasture. To honor their service, The Flipside has developed this guide for prospective students providing a few important details that are omitted from most tours.
Dining
What You Hear: You won't believe how good our dining halls are! Look at this article by Fox News that ranks our dining halls third in the nation. Our dining halls serve kale. Kale! That's what kids like to eat nowadays, right? Also, look at how sustainable our dining halls are. Our plates are literally made of biodegradable wombat manure, so don't eat for too long, because they decompose after about 30 minutes.
What They Don't Say: Taste? Oh yeah, I forgot about that. Honestly, when you're busy cramming for four midterms, the way your food tastes is the least of your concerns. Except for Hinman's blue pancakes. Those are terrifying. Also, Elder's dining hall kind of sucks. I've never eaten there so I wouldn't know, but that's what everyone says. Oh, also, our bacon is so flat, and it's so gritty that it looks like it should be on a belt sander… Oh look, here's the Arch!
Housing
What You Hear: Northwestern has a diverse and vibrant housing system, with equally excellent people. We have themed residential colleges that offer frequent events and opportunities, as well as residential halls for those that prefer a more traditional experience. We don't call them dorms to reflect that our dorms are better than most dorms. Here, you can see Allison, one of our newly renovated buildings. Let's go inside and see how pretty it is and how nice everybody is!
What They Don't Say: If you're worried about the dorms getting too hot in the summer, don't worry; the heaters will inevitably break in the winter, cooling you down after you've sweated continuously for several straight months. Dorms at Northwestern are happy communities of loud people who like to get drunk the night before your midterm (which will of course be every week of the quarter). Oh, and this building? This is Plex, the largest and most centrally-located dorm. It's actually not open to freshmen, so let's just move on.
Click here for our coverage of "What Tour Guides Don't Say" about Student Groups and Design Thinking and Communication projects!