Graduating Senior Totally Ready to Move On, Definitely Not Terrified by Real World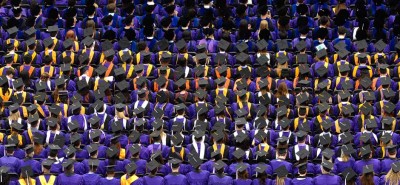 EVANSTON — A Weinberg senior told reporters that he is totally ready to face the real world after he graduates in the steady crawl of time that, most unfortunately, moves only in linear—and never circular—motion.
The senior explained that due to this astrophysical phenomenon, time gives no preference to hastening or delaying the arrival of any event, regardless of whether it is eagerly anticipated or dreaded; that is, clarified the senior, the end of the world and commencement are approaching at exactly the same rate.
The senior continued to wax poetic and academic for a few more moments, using his knowledge of the nature of the universe and the skills in the art of rhetoric that he has developed over the past four years, before mentioning that he feels "excited" to face his post-graduate life. "I'm absolutely ready to move on," he said, and mentioned that the world has many doors open to him, whether it's private sector work, graduate school, organizing grass-roots political campaigns, public service, or living in his parents' basement. "All these options are definitely not terrifying."
"My life at Northwestern has adequately prepared me to face whatever challenges come next," he added in all sincerity. The senior then interrupted his interview to wander around campus as if he was writing a sequel to Goodnight Moon, saying goodbye to the rock he once guarded just to paint, the library carrel where he wrote a research paper about a particular saint, the towering oak tree under which he sat and held hands and talked for hours about things quaint, and other parts of campus he might, in all honesty, never see again.
While he has fallen victim to "senioritis," the senior has not let this cripple him from having a meaningful end of the year. He has spent the last few weeks of his spring quarter hanging out with his friends as much as possible, assuring his professors he'll stay in touch, and telling his extracurricular groups exactly how much they've meant to him. In his free moments, the senior has stood on the shores of Lake Michigan, staring wistfully toward Chicago ("the bright beacon it is at night"), reflecting on the meaning of life.
The senior, who has known essentially nothing but school for his entire life, will throw his mortarboard into the air after receiving advice from a world-class conductor—"if I'm not ready for the real world now, I definitely will be once I hear what he has to say"—and will begin the next stage of his life before it hits the ground.