Global Warming Activists Only Students Not Excited About Warmer Weather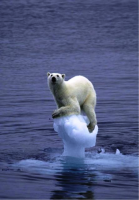 EVANSTON—This past weekend, Northwestern was greeted with unexpectedly balmy weather and although the majority of students embraced the sun, there were a few that did not appreciate the sharp change in temperature. On Monday, student activists from the eco-organization It's Not Easy Being Green (INEBG) set up a booth to educate community members on the effects of global warming.
"These types of temperatures are what we can expect if we don't stop polluting," explained INEBG member Sharon Pluto. "Some misguided plebs believe this is a good thing but it isn't. Evanston is not meant to have enjoyable winters. Frostbite should be a real risk for those commuting between Allison and Norris on foot."
In addition to wearing unnecessarily heavy winter clothing and playing Foreigner's "Cold as Ice," at high volume, INEBG members are handing buttons to passersby that read "It's never too cool for school, #contourlinesmatter."
As a result of the students' enthusiasm, an online petition urging ASG to look into the issue has begun receiving signatures. Also gaining support is a second petition for ASG to revoke all funds allocated to INEBG.
The Northwestern administration has not yet released a statement giving its opinion on the issue, but there have been reports of decreasing attendance at sporting events. Officials speculate that the advertised free scarves and pom-pom hats have somewhat lost their appeal.