Taylor Swift Sets Trademarking Trend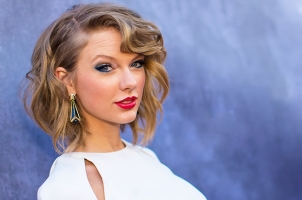 NASHVILLE, TE—After Taylor Swift's trademarking of classic 1989 phrases such as "This Sick Beat," "Nice to Meet You, Where You Been?" and "Party Like It's 1989," other artists have been quick to follow Swift's trendsetting ways, trademarking some of their most famous lines as well.
Sources close to Taylor Swift also claim she is looking to trademark such phrases as "Welcome to New York," "Romeo and Juliet," and "Starbucks Lovers" in addition to those already trademarked.
Reports indicate that famed rapper Macklemore will be trademarking "This is Fucking Awesome" from his hit single, Thrift Shop, and is seriously considering just trademarking thrift shops in general.
Nicki Minaj will be trademarking "Anaconda," annoying herpetologists everywhere, who only just recently were able to claim to be studying the Amazonian snake without being questioned about the snake's opinions on buns.
Meghan Trainor has confirmed she will be trademarking both "Bass" and "Treble," as heard in her song All About that Bass. This decision to trademark is the subject of forthcoming rock opera, You Did Not Invent the System for Transcribing Music, premiering on Broadway around Easter.
In related news, Lady GaGa has joined the trend, trademarking "Holy Shit, Get that Talentless Bitch Offstage," in a desperate but failed attempt to become relevant again.