Bernie Sanders Doing Electoral Math with Common Core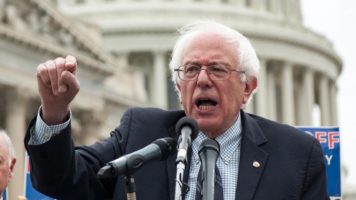 PHILADELPHIA – Following Hillary Clinton's impressive win in her home state of New York this past week, Bernie Sanders' chances at the nomination keep decreasing. Yet Bernie is as optimistic as ever, saying he still has a reasonable chance at winning the nomination, though critics have raised concerns that his electoral math was calculated using Common Core methods.
Bernie Sanders campaign manager Jeff Weaver commented on the widespread concern over the possible remaining delegate allocation. "It's really quite simple. If you add up all the rest of the delegates left, normalize for super delegates, subtract the number of delegates Clinton has, add three, factor that number down to all primes, square each prime, convert to ASCII, translate to Spanish, convert back to decimal, subtract each digit from the one before it, take the Laplace transformation, apply a simple matrix translation, and read the number off backwards, it's easy to see that Bernie has a very realistic path to the nomination."
Clinton campaign manager Robby Mook commented on Weaver's math. "I don't really know what kind of numbers the Sanders campaign is using. Everything we're seeing is showing we're way in the lead and that the path to the nomination is all but set for the Clinton campaign," said Mook, while cooling Clinton with a large palm leaf. "I think I heard Weaver brought out an abacus and a Ouija board at one point. It's crazy."
Additional sources have discussed where the money to support many of Sanders' expensive proposals would be found, though the math behind even these calculations is suspect.