Demographically Clueless Republican Enters Evanston Mayoral Campaign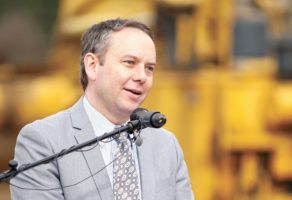 Pediatrician Trevor Goldberg of eastern Evanston has reportedly decided to throw his hat into the crowded field of mayoral candidates hoping to fill the vacancy left by retiring mayor Elizabeth Tisdahl. Goldberg, a registered Republican, has decided that what Evanston needs is his party's economic conservatism and color-blind social justice agenda.
Inspired by the national attention brought by a Northwestern grad student's mistreatment at the hands of Evanston police and his subsequent lawsuit, Goldberg filed with the Cook County Board of Elections late last Thursday and will be included in the debate on the campus of Northwestern University on February 7. He had attempted a launch party styled after Donald Trump's descent down a golden escalator 19 months ago, but his campaign's failure to get the proper permits and low attendance doomed the event. Worried that he was reinforcing a "white savior" narrative of civil rights, three Northwestern students without Thursday classes made up about half of the crowd disappointed to find out the launch party would be moved to a dry movie theater in Wilmette.
"I—despite being a straight, rich, white male conservative—feel like I can be the best ally to people upset at how the world chews up and spits out the little guy." Under his direction, Goldberg vowed that everybody would be treated precisely equally, even as he insisted there were no problems with inequality, police discrimination, overly-zealous anti-drug policies, or city-university relations.
After joking how there isn't a White House on Campus, he assured all who would listen that he would be able to win a multi-candidate election in a township that gave 87% of the vote to Obama in 2012. "The overwhelmingly Democratic students will not drown out the majority who believe in realistic decisions," said the candidate of a party that widely supports keeping a lot of the people that don't look like him out of the country.