Freshman Nonchalantly Googles "Who is Pusher Tee" Mid-Conversation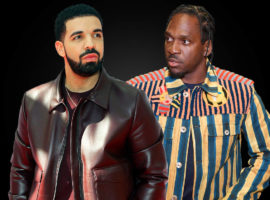 Mid-conversation with a friend about the beef between rappers Drake and Pusha T, freshman Stella Schmidt whipped out her phone to nonchalantly Google "who is Pusher Tee," sources report.
Playing it off like she had to reply to a text, Schmidt allegedly opened up Safari and began typing her question. When Google asked her "did you mean: Pusha T" and presented her with thousands of articles rigorously explaining the well-publicized rapper beef, Schmidt knew she was in too deep.
"Yeah. My friend Carter, he just started saying stuff like 'Pusha T's The Story of Adidon is mad fire' or 'Drake's diss track has gotta be lit,'" Schmidt reported. "And I didn't know what any of those words meant, but I figured I'd start with finding out who this Pusher Tee is."
Schmidt continued to explain how the results of said search made her even more confused. "Once I saw the words 'illegitimate child with a porn star' and 'blackface,' I knew I couldn't do enough undercover research in time to properly finish off my conversation with Carter," she claimed. "I had to plot my escape."
Fellow freshman Carter Jones reported that he sensed something was off about Schmidt's behavior. "I started to give my opinion on how Meek Mill is to blame for Pusha and Drake's feud and how Kanye's behavior is helping to escalate it. At that point, she was visibly sweating while frantically typing things into her iPhone," Jones said.
Sources who were at the scene saw Schmidt nervously answer her phone, which had not rung, and awkwardly rush away from her friend. Jones assures reporters that he "hasn't talked about rap with her since."