Wisconsin Freshman Marvels at Homeless Man Masturbating on Purple Line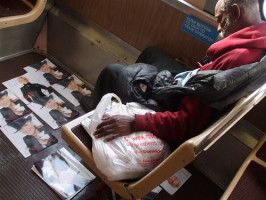 EVANSTON – When Jeremy Schlitz, a Weinberg freshman from Elkhorn, Wisconsin, took the Purple Line to go to his aunt's Oak Park condominium, the last thing he expected was to see public masturbation.
"It just didn't cross my mind," Schlitz said, shaking his head in awe. But when he boarded the southbound train, the first thing he saw was a homeless man furiously pleasuring himself in plain view of everyone on the cab.
"Everyone pretty much ignored it, so I figured that it was normal," Schlitz said. "We don't have that up north."
The homeless man, whom Schlitz described as being in his "mid-to-late fifties" and "bearded," made quite an impact on the freshman, who intends to study sociology.
"I grew up in a pretty sheltered town," Schlitz explained. "It was rare to see a homeless man defecating on a park bench, let alone masturbating in public!"
Schlitz added, "It really shows you how progressive Chicago is, culture-wise."
After taking pictures of the masturbating man with his iPhone, Schlitz tweeted "man masturbating on #purpleline. i'm learning so much! #smalltownboy." Schlitz explained that the tweet was retweeted by several of his friends back home, who were presumably impressed by the artistic and cultural environment of Chicagoland.
On his trip returning from his aunt's, Schlitz said that he did not see anyone masturbating, but added that there was only one other person in his cab and that perhaps his fellow passenger was too shy to pleasure himself in front of only one other person.
"I bet he felt awkward," Schlitz hypothesized. "My professor talked about that, it all has to do with socialization."
Whether or not the masturbating man was performing a social field experiment or simply deriving pleasure from the manipulation of his genitalia was something that Schlitz intended to research in the future, he said.
Schlitz said, "I asked my Human Sexuality professor about discussing it in class, but he just got nervous and hurried away, muttering something about a fucksaw."