[Tabloid Issue] CELEBRITY GOSSIP: Marching Band Dumps Football Team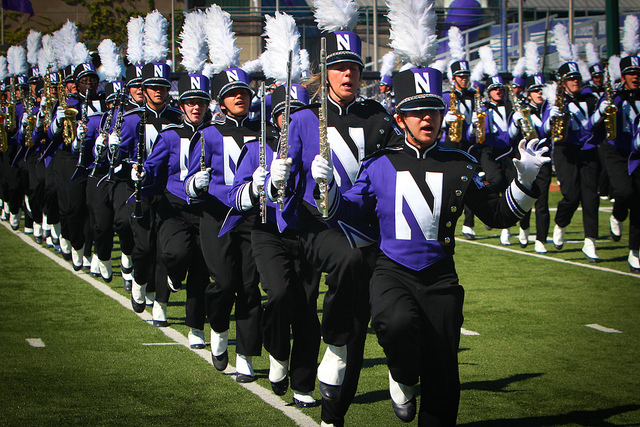 EVANSTON — The Northwestern University Marching Band was spotted last night at a Tappa Tappa Keg party, accompanied by none other than the Women's Field Hockey Team, causing Flipside Gossipologists to speculate that the Band has dumped its longtime companion, the Men's Football Team.
Last weekend, the Field Hockey team won a portion of the Big Ten Conference Championship with a win over Ohio State, and this is believed to have played a large role in the Band's switch of partners.
"[The Band is] totally turned on by victory," said Tom, a Medill junior who would not give his last name. "And by big sticks," he added.
Tom, always equipped with a large camera, has studied the Marching Band-Football Team relationship for years. "It's been rocky all season," he said. "The Marching Band thrives when it is time to move the chains. This year, they haven't had enough chains in their relationship."
After suffering five disappointing losses in a row, the Marching Band apparently had had enough. While neither the Marching Band nor the Football Team agreed to an interview, it is believed that the Marching Band left the Football Team, seeking real victors who would not only appreciate but also find inspiration in such antics as Star Wars reenactments and the tossing of fake rubber chickens. The Band found such a partner in the Field Hockey locker rooms.
Given the crushing nature of any breakup—and the absolutely pathetic play the Football Team has been exhibiting since conference games began—the Football Team is not expected to win another game this season.