BREAKING: C-Store Sushi Contains Traces of Fish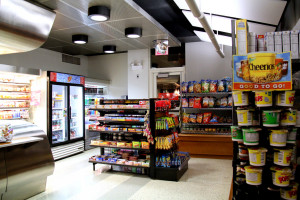 EVANSTON – A third-party study released this past week has found that the small cartons of sushi sold in NUCuisine C-Stores contain slight traces of fish. Authorities have preliminarily declared that the presence of fish in the sushi poses no danger to consumers, though Northwestern administration has already launched an investigation into possible implications.
Area students have had varied reactions to this revelation. Madeline Davenport, WCAS '19, was outraged, saying "This violates my entire belief system. I would never eat fish as opposed to gelatinous off-red protein." Others voiced health concerns, such as the unknown consequences of ingesting uncooked seafood.
Sodexo President Mark Rutherford has promised the sushi will undergo more rigorous testing from now on to ensure product purity. "We don't want to deceive any of our patrons," Rutherford assured. "If there was fish in our sushi, I guarantee it was only very tiny amounts. We will work to make sure those quantities are reduced to zero."