Medill Student Shamelessly Interviews Relatives at Grandmother's Funeral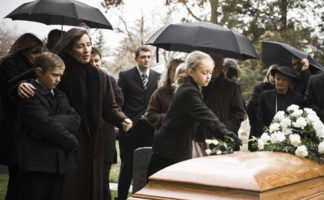 Sensing a great opportunity to network and build her resume, Jessica Wallace, Medill '21, attended her grandmother's funeral yesterday armed with a notebook, tape recorder, and list of questions to ask her relatives. According to aunts, uncles, and cousins, Wallace spent the entire time grilling them with professional and concise questions.
"At first, when Jessica came up to me and asked me how I was feeling, I thought she was genuinely showing compassion," said her cousin Roy Jason. "But as soon as I started saying how sad I was, she told me to start over because she forgot to start recording."
Family members reported that Wallace even intends to hire a spiritual medium to get some direct quotes from her grandmother for the news story, which she hopes to submit to The Daily Northwestern.
Today, Wallace deflected questions about her actions during the funeral.
"I'm a journalist. I don't answer questions. I only ask questions," she said. "Oh, by the way, do you know of any other funerals happening this weekend? I need some more sound bytes of people crying for my podcast assignment."
Many Northwestern students were outraged by Jessica Wallace's display of insensitivity toward her grandmother, but sources report that earth science major Ryan Banos, Weinberg '20, also attended the funeral to examine the texture of the gravestone.