[SEVENTH GRADE ISSUE] Gabby and Ariel's Social Calendar is, like, totally filled with Bat Mitzvahs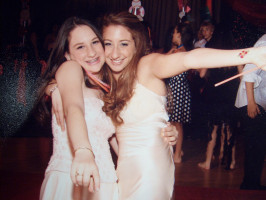 Gabby and Ariel are, like, totally the hottest JAPs at school. They only wear Marc Jacobs, and they get invited to EVERY Bat Mitzvah.
G + A (as they call themselves) spend the Saturday morning services taking trips to the bathroom to gossip and flirting with the boys from different schools across the room.
Between the service and the party, G + A are very busy making a "kissing web" that shows who everyone in the school has kissed. They are presenting it to their girlfriend Lauren tonight at her Bat Mitzvah party, which is New York-themed.
But the party is where G and A really show their social prowess. After spending an hour applying Stila make-up, the girls hit the party and flirt with the boys whose parents let them drink the Manischewitz wine.
After "The Cha Cha Slide" and "Cotton Eyed Joe" had finished playing, the DJ cranked up the Usher, and G + A were, like, totally grinding all up on each other while the other girls were at the photo booth.
After a fun night, G + A went home, but leaving the event was not too sad. Next week, the week after that, and the week after that they get to do it all again for Sara, Naomi, and Zach's parties.