Student Contracts Deadly Disease After Setting Foot on Shower Floor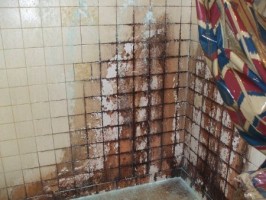 EVANSTON – According to recent reports, Weinberg freshman Tony Gonzalez acquired a life-threatening illness just seconds after his bare foot made contact with the shower floor in his dorm Saturday night.
Gonzalez said he was wearing flip-flops in the shower but fatally took his foot out of one for a moment, accidentally stepping onto the shower floor.
"I was just trying to wash the bottom of my foot," Gonzalez said.  "I took my foot out of my sandal just for a minute so I could wash it, but I lost my balance and stepped down.  I can't believe that this is what's going to cause my demise."
Dozens of pus-filled boils reportedly sprang up on Gonzalez's foot almost instantaneously and have now spread up his entire leg. 
"I've started to lose feeling in my leg," Gonzalez says.  "Every time I take a step it feels really tingly, kind of like someone is stabbing me with a blade covered in hot sauce." 
Doctors say the burning sensation will spead to the rest of Gonzalez's body within 29 hours. He will perish soon thereafter. 
"Around thirteen similar cases are reported on college campuses every year," said communicable disease specialist Julie Numan.  "We advise leaving feet unwashed or lifting a foot up with the flip-flop still on in case of a loss of balance.  Just don't ever touch the side of the shower for support."