Wide Receiver Brandon Marshall To Be Cut Twice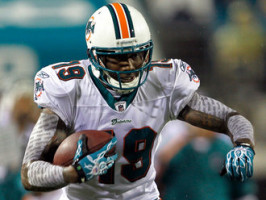 MIAMI – Star wide receiver Brandon Marshall may be cut twice in the span of a week. The first cut occurred seven days ago when his wife stabbed him in a domestic dispute. Several days after the incident, rumors began circulating that the Miami Dolphins would release him from the team.
The move was quite unexpected considering how Marshall had been carving up the opposition last season. "The way he was knifing in between those safeties was downright impressive," according to ESPN analyst Herman Edwards. "He can definitely build on this," he added.
Upon hearing the rumor, Marshall was distraught. "It was like I was stabbed in the back, and then stabbed in the back again. I mean figuratively, of course; my wife actually stabbed me in the abdomen."
Marshall has been a member of the Miami Dolphins for one season after being dismissed from the Denver Broncos. In Denver, he was known for cutting people in line and cutting out of practice early, to the chagrin of teammates. "Karma's a bitch, I guess. That's what happens when you cut corners," said Broncos defensive end Elvis Dumervil.
As if his life couldn't get any worse, Marshall revealed during his interview that he cut himself shaving this morning.