Girl In 6 Courses Dreads CAESAR Above All Else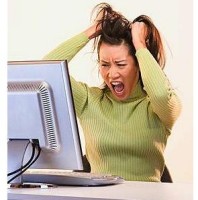 EVANSTON – With only several weeks before Spring quarter finals, some students are beginning to feel the pressure to perform well on final exams before the summer begins. However, this is not the case for Cynthia Tan, who will be finishing her second year in electrical engineering and is currently part of the BS/MS program. Though her two weeks in June are packed with exams and papers for the six courses she has been juggling throughout the quarter, Tan anticipates having the most trouble dealing with CAESAR to register for next Fall's courses.
"I remember how stressful it was during the winter, trying to figure out what the hell the website wanted just so I could do something simple like overloading extra classes," recalls Tan about her most recent experience with the online course enrollment process.  "A few of my friends who were taking three classes were telling me how much difficulty they had, but all I could think was, 'You have no idea – I have to deal with CAESAR twice as much!'"
Described by her peers as a hard worker and occasionally an "overachiever," Tan has declared two majors in engineering and seeks a dual degree through Northwestern's undergraduate BS/MS program. When asked what she considered to be her biggest challenge in pursuing such goals, Tan replied that maneuvering through the "Student Center" portal and class registration probably demanded the most time and perseverance.
In preparation for the upcoming registration, Tan has begun to compile notes and mnemonic strategies to deal with the CAESAR website, which she considers a higher priority than her two midterms next week.  Tan admits that although she is generally a confident student, she feels very nervous as the time to log in to CAESAR draws near.
From those of us familiar with the website, we all wish Cynthia the best of luck.