Typo Mislabels Seth Meyers "Grand Dragon" of NU Homecoming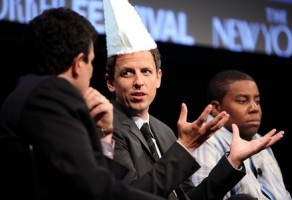 EVANSTON — The Daily Northwestern stirred up controversy recently when a gaffe by one of their reporters, who mistakenly named Seth Meyers to lead the parade as "Grand Dragon," slipped by the publication's copy editors. Meyers will be serving as the parade's Grand Marshal, but many have jumped to conclusions upon seeing Meyers' name associated with a title normally bestowed upon high-ranking members of the Ku Klux Klan.
Upon reading the article, Grand Cyclops Darrol Freedman Jr. of the Evanston Den and his fellow Klan brothers were incensed over the "gross misappropriation of a venerable title," reserved for only those individuals who have shown their dedication to the organization through hard work and terrifying acts of racism. "At best," remarked Freedman, "Seth Meyers might be ranked a Ghoul, although he could have been a Lictor if he'd thought to burn a 50-ft. cross at the White House Correspondent's Dinner. But even then, there's that whole thing about him being Jewish. That's a problem."
Freedman's "strongly-worded letter" to the editor of the Daily was met with no response, so he appealed to his superiors — primarily the real Grand Dragon of Illinois, George Michael. "It's bad enough that I'm regularly mistaken for that 80s pop icon. You know, the one who sings 'Faith?'" Michael intoned, "But now I'm mixed up with the guy responsible for the shitty state of SNL."
Michael has since authorized a "totally, completely non-violent" march down Sheridan Avenue in protest of the Daily's typo, scheduled for October 21st — coincidentally the same day as the Homecoming parade. In response, the entirety of the NU Black Alumni Association (NUBAA) has promised a counter-protest. All six members are outraged at the total disregard for political correctness on the part of all the situation's main players. Loretta Stevenson, a spokeswoman for the NUBAA, has mentioned, "The student support for our cause has been overwhelming. Already, sixty-two student a capella groups have vowed to 'sing for justice' at our rally." FMO is in the process of moving the date of its tailgate from Game-day to the night of October 21st. Not to be outdone, Northwestern Cru will also be handing out leaflets on every street corner and hosting a Bible study, urging students to ignore the protests and "root for God's team," instead.
The anticipated clusterfuck of protests and singing groups has shaped up to be the event of the weekend. "I might actually go to the parade this year," said WCAS Junior Dylan Barnes.
Meyers himself was unavailable for comments, but a spokesman for the comedian reported, "Although Mr. Meyers has no intention of joining, he is flattered that the Klan was so taken with his work on SNL as to ignore his blatant Jewishness and recommend him for such a high position in the organization. He might actually go to the parade this year, too."