Tanorexia a Growing Concern for Uprooted Guidos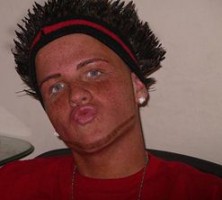 MTV's Jersey Shore Cast Raises Awareness for Spreading Medical Concern
SEASIDE HEIGHTS — While culture critics have decried Jersey Shore as "inane," the season premiere of the reality show has brought an important health issue facing young Americans to the public consciousness. In Italy, a country famous for its cold climate and harsh terrain, Mike, Vinny, Pauly D, and the rest of the cast have suffered from "tanorexia," struggling to maintain an even burnt-orange base-coat last season. The seriousness of their condition first became apparent when Snooki spotted a freckle on JWOWW's paling left forearm.
This loss of pigmentation left them with symptoms that Northwestern Psychology Professor James Whitesides likened to those of depression and common anxiety disorders.
"When major life changes disrupt a healthy routine such as frequent UV exposure in tanning beds," Dr. Whiteside explained, "it's not uncommon for even extremely well-balanced individuals, like Ronnie, for example, to experience symptoms which affect their ability to form healthy relationships, and may even cause them to appear emotionally unstable."
Beyond the strain tanorexia can place on such a seemingly constructive relationship as Ronnie and Sam's, many viewers saw the inner turmoil of Vinny Guandagnino as the most poignant evidence for the tragic consequences of the disease. Bloggers speculate that the reality star might even go as far as to move out of the shore house in order to deal with anxiety struggles Dr. Whitesides says can almost certainly be linked to the increasing bronze-tone depletion undergone by the show's cast over the past season.
Here in Evanston, Northwestern students especially may want to keep the threat of tanorexia in mind as Winter Quarter progresses.
"I've been pale my whole life," Jennifer Smith, a McCormick sophomore, shared. "My mom always made sure I wore SPF 45 on vacation, and sales associates at Sephora always advised me to go for the lightest shade of foundation, and I'm just really glad the cast on the show was able to convey the seriousness of tanorexia so that I can make informed decisions about my health in the future."
As predicted by leading entertainment experts, this past week's season premiere of Jersey Shore proved both thought provoking and socially relevant.
"What I like most about the show," Smith told The Flipside, "is how much I relate to the characters. There just aren't that many shows about real young people that deal with the issues that affect us right now."