"Ask Kenan" But Not About Kel: Burger Magnate to Keep USDA Prime Secrets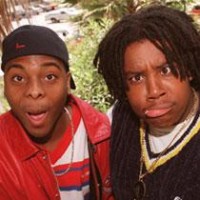 EVANSTON — A&O Productions is thrilled to announce that winter speaker Kenan Thompson will be performing this Friday January 27, 2012 at Pick-Staiger Auditorium, and will answer questions in a brief Q&A period following his stand-up routine. As advertised on their "ASK KENAN" posters, A&O says students can feel free to ask the performer questions about any aspect of his rich television and film career, with the exception of any subjects related to his former co-star and business partner Kel Mitchell.
As many students know, Mr. Thompson and Mr. Mitchell gained fame and fortune as co-founders of the Good Burger franchise, serving nutritious and well-balanced meals and smiles to nineties kids everywhere.  The pressures of fame and success, though, weighed heavily on Kel, ultimately leading to his highly publicized battle with substance abuse. In the spring of 1997 Kenan made the horrifying discovery that Kel had spent nearly all their yearly earnings on orange soda, which he had stored in one of the All That! prop warehouses.
"He said he was trying to establish a 'Fanta Standard'" Kenan choked out in his E! True Hollywood Story, "you know, like the thing with gold and money, but I knew he had a problem.  Amanda Bynes and I tried to have an intervention, but there are some problems even dancing lobsters and Judge Trudy just can't solve."
Knowing he needed to get out of a destructive relationship while he still could, Mr. Thomson recouped what he could of his own investments in Good Burger ended the business and personal relationship which had been the basis of his initial stardom, drawing on the experience to give harrowing performances in such crtically-acclaimed films as Fat Albert and Snakes on a Plane.
Kel, on the other hand, is rumored to have drunk away his orange, fizzy life savings and slipped in to obscurity.
While a decade has passed since their tragic falling out, Kenan struggles to deal with his emotions around Kel's downfall, and refrains from discussing his former best friend in public appearances.  "It's still just too painful," he told Diane Sawyer in an interview last year.  "Sometimes I'll see a pickle or just some other burger topping, and I'll think of the way he used to say 'Welcome to Good Burger, home of the Goodburger, can I take your order?' in his soothing way and I — I just get all choked up." 
Kenan has also requested that the orange soda icon be blacked out in all of the Pick-Staiger vending machines while he is there.
On a happier note, perhaps the members of the NU community most excited for Kenan's visit are those on the lady Wildcat Field Hockey Team, whom Mr. Thompson has promised to teach to shoot his famous "knuckle-puck," which he used to defeat the Russians in D2: The Mighty Ducks.  "We're hoping that if we master it," team captain Jamie Stanton told Flipside, "other NU students will be aware that there actually is a women's field hockey team."