Evanston Community Bemoans the End of Bemoaning TKOE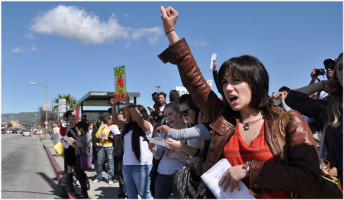 EVANSTON – The slew of Facebook posts, video homages, and other means of gratuitous whimpers regarding the recent revoking of the liquor license of beloved local bar 'The Keg of Evanston' has slowly wound down, much to to the dismay of patrons of the bar. Collectively, the complaints about Mayor Tisdahl's decision to revoke The Keg's liquor license, which have lasted nearly 3 months, have become an event in and of themselves that has overshadowed the actual closing of the bar. An anonymous Northwestern student remarked on this phenomenon, "Yeah, the Keg was a good time, but I never got the opportunity to just bitch my heart out before the Keg closed. I'm going to miss being able to whine constantly without being judged."
Other students share similar sentiments. A petition has been drafted, addressed to the City of Evanston, in an attempt to impede — but not stop — the inevitable closure of TKOE. The petition contains a clause that stipulates, 'If this petition is to succeed in fully restoring TKOE to its former status, the support for this petition will be rescinded, effectively negating any positive effect on the bar.' Says the lead writer of the petition, "We just want to buy The Keg some time so we can continue to complain about its unfair demise.' It seems that the student body has joined unanimously in protesting the end of protesting the end of the Keg.
No one has been more vocal about the Mayor's decision than Northwestern freshman Tanya Baker. She claims she was the 2,500th person to update her Facebok status with a diatribe against the Mayor, which was, in her eyes, a "courageous and effective form of protest", despite her admission that she has never actually visited The Keg.  She noted that, lately, her Facebook rants "don't get likes anymore". Seemingly furious at the implication that complaining about The Keg's downfall has gone out of style, Tanya has redirected her rants towards fellow students; "R.I.P. supporters of TKOE" was her most recent status.
Tanya's friend Sarah, on her attempt to coax Tanya into moving on, said, "Tanya won't stop because she's anxious that her friends from home won't believe that she actually went out to bars during college if she stops complaining about the death of the 9th-best college bar in the U.S."
A 60-year-old man who frequented the bar, who requested his name go unmentioned, is also worried, but for entirely different reasons. "I'm that guy who used to sit in the corner and glare over the top of my mug o' beer at them college students dancin' all around," admitted the regular. He has become aware of the decreasing amount of angst, and it makes him think that those college students don't "feel the same way about [him] as [he] does about them."
Mayor Tisdahl has also expressed dismay at the reaction to her decision. "It's not that I thought it wouldn't be controversial", says Tisdahl, "I just hoped it would create a backlash that would last much longer. I'm not going to get this much attention again until my funeral."
One cannot help but sympathize with the mayor, as well as the members of the Evanston community who once were able to complain loudly and incessantly about the closing of The Keg, only to have the one-of-a-kind experience slip through their fingers. They'll be forced to go back to grumbling about their Physics midterm or the seasonably cold weather.