Defensive Line Benched for Fashion Faux Pas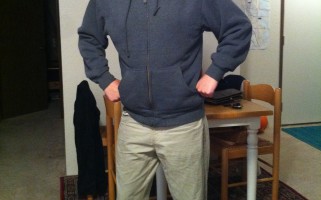 EVANSTON — Although there has been a lot of hype around the recently ranked Northwestern Football team, the Wildcats will be playing this Saturday without their starting defensive line.
As the Northwestern community has long been aware, the team has a strict dress policy on weekdays: a Northwestern Football sweatshirt with a complementary pair of gray or black sweat pants. Any attempt to disobey this policy results in severe punishment. This past Monday, the defensive line boldly disregarded the rules, and wore khakis with their sweatshirts.
As a result, Pat "Queen Bee" Fitzgerald told these players they could not play Saturday. "Our defensive line was wearing Khakis, and it was a Monday. You can't wear Khakis on Mondays," Fitzgerald told the press.
When the defensive line tried to protest by saying that they had slimmed down and khakis were all that fit them, Fitzgerald squealed, "You can't play with us!" The 'Cats are still waiting to see what results this decision will bring come Saturday against Iowa, but the team is confident that they have made the right decision.