Student Groups Reject Study Suggesting Sidewalk Flyers are Ineffective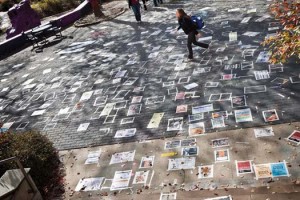 EVANSTON — A Psychology Department study shocked Northwestern student groups this week with the controversial claim that taping advertisements to the ground is not an effective way to market a club, cause, or event. For decades now, Northwestern students have been paving sidewalks with flimsy, exposed, and flamboyant pieces of paper. For the first time in Northwestern history, students are questioning the status quo and boldly considering whether they should continue to litter the streets with their short-lived posters.
Some club leaders publically rebutted the idea, such as the leader of Environmental Awareness Through the Exploitation of the Environment (EATEE). Said EATEE President Greg McDonald, "I don't even understand why it's up for question. The signs give the sidewalk culture and they're really clever. I saw a great one today that told me to 'Keep Calm and Join the Fight Against Inner-City Diabetes.'"
Susan Whitt, a prospective student, understands the study's results. She commented, "The club posters on the ground just make the school seem desperate. I've been listening to a tour guide tell me Northwestern has 960 clubs that want me, and when I try to ignore him the ground insists that I join clubs like the 'Speed Walking against Child Abduction Committee.'"
Whitt added, "The posters make the ground look like a drunken rainbow."
Nevertheless, Northwestern student groups are unwilling to admit losing any momentum. Student leaders claim that flyers intrigue the reader, and that the signs really have an impact on those who pass them.
McDonald cited the success of a recent EATEE event to justify the promotional efforts of his organization. "We spent ten hours taping down 300 flyers, and had a wonderful turnout of seven people at our recent Bonfire for Carbon-Free Skies event."
McDonald added that five of those seven people were EATEE executive board members.