A&O Sponsored Geographer Concert Disappoints Geography Majors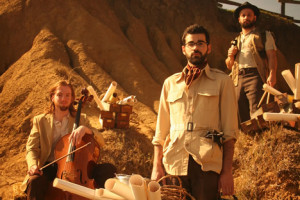 EVANSTON — Last Sunday A&O hosted a Dance Marathon benefit concert featuring the San Francisco band Geographer. The concert was held out on the Norris East Lawn and was well attended, though the crowd was a departure from the indie band's usual fan base.
Geographer's manager described the band's average fan as "a young blond girl with a California tan, usually wearing some combination of swimwear and clothes that I can only assume she stole out of her grandmother's closet." Geographer was surprised to find Sunday's concert attended mainly by "indoor types" toting maps and old timey telescopes.
According to William Stubbs, a Weinberg sophomore, the event was hardly what he had expected. "As a history and geography double major, I was excited that a professional in my field was finally coming to talk about his work, but when I got here, I realized that 'The Boulder' and 'Shell Beach' weren't conversation topics, they were songs."
Stubbs retreated to the corner of the lawn to try and get some work done on his terrain mapping project, and he wasn't alone. Several despondent geography enthusiasts cowered in the shade of Norris (presumably to avoid sun damage), misinformed and ill prepared for the real event.
To make matters worse, Geographer made a point of plugging fellow bay area band Cartographer throughout their show. "It really just adds insult to injury," Weinberg freshman Howard Lehm lamented. "It's like they saw me standing there, using my map of 14th century Britain as a makeshift sun visor and knew that my dreams of meeting legendary geographer Michael Frank Goodchild had been dashed moments ago."
Lehm went on to explain the nuances of the field of geography and the many ways it differs from cartography, anthropology, geology, and topography, all of which are coincidentally also band names. Although the concert was not exactly what Lehm had expected, he did end up enjoying the show: "In their song, Verona, they say 'something keeps a river from sinking to the ground' which I think really captures the beauty inherent in the study of topography, it's truly un-Belize-able." The Flipside ended the interview immediately.