Area Man Dons Pirate Hat While Streaming Pirates of The Caribbean: Dead Man's Chest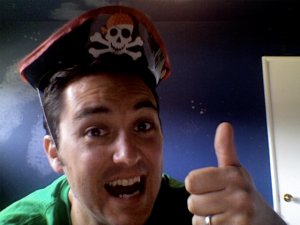 TRENTON, NJ — Area man Luke Davenport donned his pirate hat this week when he successfully found an online source where he could stream Pirates of the Caribbean: Dead Man's Chest. The swashbuckling adventure appealed to Davenport because of the characters' action-packed escapades, the engrossing story, and the unrestrained consumption of alcohol.
"I was inspired to have two shots of rum!" said an ecstatic Davenport.
The film—"which isn't on Netflix," according to a mildly disgruntled Davenport—was "very good, lots of sword fighting, cool music." Johnny Depp, he added, was dreamier than he expected him to be.
However, Davenport insisted that he was not wearing the pirate hat because the movie he was watching was about pirates. "I am a pirate," said Davenport. "I wear this hat all the time, matey!"
In fact, the sorry swashbuckler wears his pirate hat more frequently than his neighbors find comfortable. "At first I thought it was just a little quirky," said next-door neighbor Jim Gustowski, "since he enjoys boating even more than I do. I thought, fine, let him pretend to be a pirate. But then I noticed he doesn't just wear the hat when he's on the water—he has it when he's watching movies, walking his parrot, digging holes in his yard and filling them with money. It just goes to show you never really know who your neighbors are until you've seen it all."
Davenport also wears his pirate hat when he walks into bookstores and reads books without paying for them, hacks into ATMs to retrieve all the money inside them, and hijacks cars.
"It's just stuff sitting out there for anyone. Why shouldn't I take advantage of it?"
At press time, Davenport was being taken away by police officers as he shouted "Parley! I demand a parley!"