Guy at Omelet Station Really Not Fucking around with His Order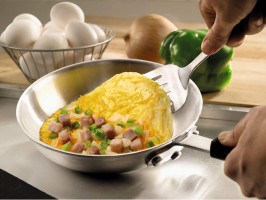 EVANSTON — Reports from the Sargent omelet line indicate that the guy in front of you in the omelet line had absolutely no reservations about what he wants in his eggs.
"Gimme some ham and peppers," said the brash, confident individual, clearly on years of practice and preparation to navigate his request for the breakfast staple. "And I want some tomatoes. A few more. More. Alright."
The young man, who obviously put on his big boy pants today, completely skipped the usual greetings and pleasantries with the dining hall worker jumping right into ordering a breakfast of champions. "Oh, and I want some onions," he added.
Other students waiting in line said they could not help but feel awe-inspired by the authority in his words, the confidence in his posture, and his no-nonsense demeanor.
"Jesus, look at him orchestrate that omelet," said Rowley Baker, a Weinberg freshman. "This guy means business. Look at him point to the cilantro. He's just diving right in there. He flat-out knows, man."
As the gathering crowd looked on, the omelet master pulled a stunning move. In a voice as frigid and unwavering as a February breeze off Lake Michigan the man declared, "Make it with egg whites."
What a stone cold motherfucker.
Admirers of the breakfast-ordering master reported that no breath was wasted with pleases, thank yous, ums, or uhs. Especially passionate testimonies indicated that the order had "absolutely no regard for human life."
After completing his order, the man's man stood tall and steady while his omelet cooked. Following a satisfactory period of frying, sizzling, and browning, he held out his plate for reception, at which point sources say that his hand did not shake one bit. "Solid as a rock," said Baker. "This guy's unbelievable. What finesse."
As of press time, the individual with the mile-long confidence stick had gone to the far corner of the dining hall, eaten alone, and left precisely fifteen minutes later. All around, there was silence.
"Nerves of steel, man." Baker whispered. "I don't know who that guy is, but what a goddamn legend."
Workers in the dining hall also commented on the order. Raymond Randall, 33, said, "That guy was an asshole. What a rude little shit."