EVANSTON — One of the hottest commodities available for trading today is a simple strip of fabric.
A high demand coupled with extremely limited supply led to a skyrocketing value of Dillo Day wristbands. At closing time Wednesday, the price of a wristband had reached more than $100.00, with some buyers willing to pay up to 130% per wristband.
Since initial trading began at the Chicago Board of Exchange two weeks ago, investors have flocked to obtain the wristband and despite the trading cap at maximum three bands per investor, the commodity is flying off the shelves. Mayfest (ASG-A:MF) had to suspend trading Wednesday afternoon after trade volumes surged to an all time high.
"The Northwestern undergraduate student body is our primary constituency," Mayfest co-chair Xander Shepherd said. "We are required to make sure students benefit from Dillo Day."
Amidst the confusion, optimists tout the unreached potential of the commodity market.
"We think the wristband market is looking very positive," said Mark Hamm, a commodity analyst for Craigs-Liszt Group Inc. (NYSE:CLG). "We love the fundamentals especially since the price to earnings ratio has kept up to our standards so far. It's really hard to ignore the bull market on non-precious-metal commodities right now."
The increasing value of the wristbands is reflected in recent banking products which began offering various derivative products of wristband trading. Dow Jones & Company, a subsidiary of News Corp (NASDAQ:NWS) has suggested publishing new market indices reflecting the fluctuations of Dillo wristband prices.
"One of the most popular products in wristbands is the futures option, where buyers invest in future availability of wristbands," Hamm added. "We expect the product to be in such high demand, our floor traders are expected to start waiting around Friday at midnight."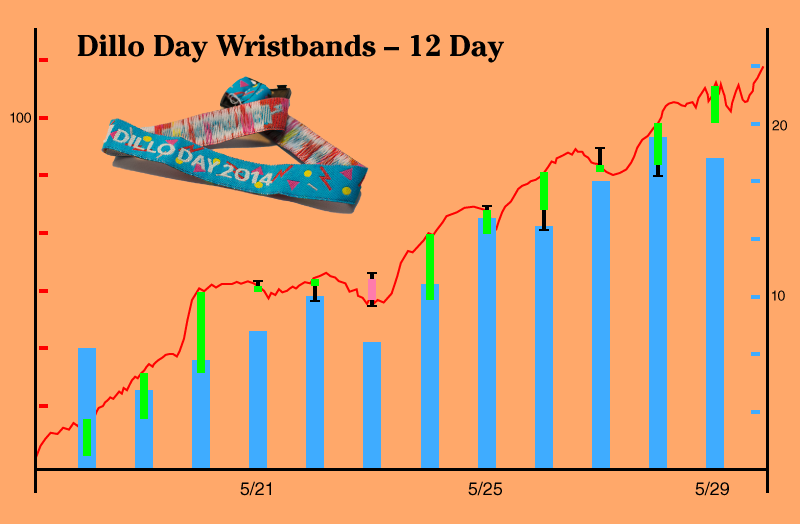 Despite optimists leading the rally on wristbands, some urge caution with the relatively new market.
"I think the risk involved in wristband trading is relatively high to the expected returns," said Darsh Kumir, a financial analyst at Royal Slovakian Bank (LSE:RSB). "To be honest, we suspect that a large part of the price surge is a bubble waiting to burst. The current value is a result of artificial scarcity which is a result of producer error. There's no way this market is sustainable."
For now, the market for wristbands remains active.
"Really Need Dillo Day Ticket," anonymous poster wrote Wednesday evening. "Willing to pay!!"