Behind the Music of A&O Blowout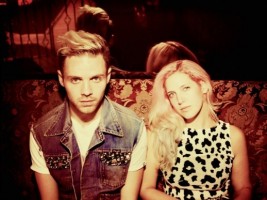 By Umber Waheed
When A&O Productions announced Big Sean as the headliner for A&O Blowout, they kept the opening act under wraps for a solid two days which drove students insane. When indie pop duo MS MR was named, The Flipside was excited to learn the truth about the undiscovered artist behind the infamous 2012 hit "Hurricane."
Flipside investigators met up with the group in the suburbs. As a result of recording studio renovations, the interview took place in producer Max Hershenow's (the Mister) mother's basement. The Flipside found vocalist Lizzy Plapinger (the Miz) avidly swallowing a gallon of honey.
"I read somewhere on the Internet that honey coats the throat," Plapinger said. "This big ol' thing is the only autotune [sic] we actually know how to work."
Below is the record from The Flipside's Q&A with A&O's opening act.
So, have you guys always loved music?
MR: Not really. It wasn't until my Uncle gave me his trashed Macbook that I saw this one thing called Garageband. It was insane! I actually taught myself how to play the piano, tambourine, and trumpet from that baby.
MS: Yep.
How did you two meet?
MS: I was actually in my Intro to Psych class when I noticed this dude wearing these massive headphones bobbing his head to some trashy beat. [laughter from MR] I was so annoyed that I ripped his headphones off, yelled at him, and –
MR: When she screamed, it actually sounded really good against my new tropical techno piece I was working on. So, I muffled her yelling and asked "Do you wanna do vocals for me tomorrow night at my place."
MS: I actually said no but he promised pizza.
That's actually amazing. What then inspired your song "Hurricane"?
MS: Um, could I share a secret? I like the way the word sounds. I overheard some weather lady on the news describing a possible hurricane in Florida and she just sounded so cool. There's just something so exotic about natural disasters.
MR: I just work with what I get.
Beautiful. Where can we expect MS MR in a year?
MR: Hopefully not at a college campus. School sucks. Music over everything. [MR proceeds to beat his chest]
MS: Maybe we'll take over the world with our next single: "Ebola."