Last Healthy Student on Campus Adopts SARS Mask to Avoid Sickness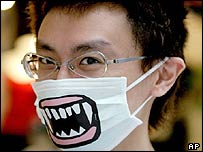 EVANSTON — As a debilitating cold sweeps through Northwestern's campus, one student has thus far managed to avoid infection. Carl H. P. Kondriak was seen sporting a white surgical mask in his morning Chemistry lecture class. Sources confirm that Kondriak continued to wear the facial obstruction for the remainder of the school day.
"I didn't think the disease would ever reach this area, but I guess this goes to show that all it takes is one carrier," bemoaned Kondriak as he changed his latex gloves. "I'm from Florida, where the primary health concerns are sunburn and arthritis. I'm not prepared for this."
While there is not yet a successful vaccination for this strain of the common cold, scientists have been working around the clock to find a cure. "We've developed several drugs to ease symptoms, but these are not always effective," said Dr. Helen Cramer of the Feinberg School of Medicine. "In many cases, all we can do is let the disease take its course."
Over recent months, there has been a significant increase in the number of cases of the common cold in the U.S. Some officials believe that this number will continue to grow in the coming months, but many experts argue that the U.S.'s superior healthcare system will prevent an epidemic.
"It's made it this far, but in comparison to TB, it has a fairly low infection rate," said Cramer. "I doubt that it will proceed any…" [At this point, Dr. Cramer broke into a coughing fit and had to be excused.]
In response to the pending crisis, the Norris bookstore has begun stocking a new line of Under Armour "facial cloaks."