Couples Costumes You Probably Shouldn't Wear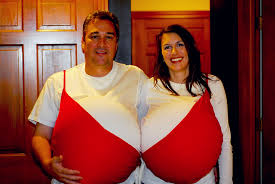 Couples[1] costumes can be a great idea for Halloween. They double your chances that someone will actually know what you are, and sends the message to everyone that hey, at least I have this ONE friend. However, while some group costumes still work when you roll solo to the bar—or when your friend finds their Halloween bae, not to be seen again until November—others become unrecognizable. Here's a list of two person costumes you should probably avoid if your friend is super flaky:
[slideshow_deploy id='22609′]
[1]For the purpose of this article, "couple" is understood as a friendly duo, as everyone knows legitimate couples are not to be found at college Halloween parties.