NUdroppedclasses Tumblr Causes Mass Drops, Addiction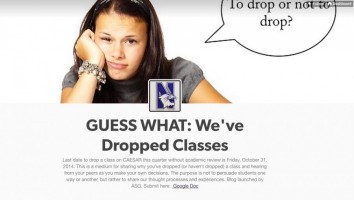 By Nathaniel Speiser
EVANSTON – A recent movement to remove the stigma from dropping classes, spearheaded by ASG, appears to have backfired. What started as a tumblr for students to share their stories about the positive effects of dropping classes quickly morphed into a race to drop as many classes as possible.
A viral trend mirroring the ALS Ice Bucket Challenge, called the NU Class Drop Challenge, emerged quickly after the tumblr blog went up. In the videos, students show themselves logging onto CAESAR and dropping one or more classes. They then challenge 3 of their friends, who have 24 hours to do the same or be ridiculed as "that asshole that didn't do the challenge". Approximately 2000 students have participated in the challenge as of press time.
Soon after the challenge became popular, students started reporting psychological addiction to dropping classes, labeled "dropping." Marcus Zhao, MSJ '17, said in an interview, "It was such a rush 'dropping' my one really hard classes that I decided to drop my other classes to try to get that same high, but it just wasn't the same. I knew I needed more." After some students ran out of classes to drop, they resorted to stealing friends' CAESAR passwords in order to keep "dropping."
Luckily, in response to all the "dropping" related woes, the ASG has created a support group, Droppers Anonymous, to help students recover from their addiction. Many students, such as recovering "dropper" Katherine Morgan, WCAS '16, have found it extremely helpful. "This last week was extremely dark for me. I just dropped class after class. Before I knew it, I had dropped all my classes and I was in SESP! But I'm getting better now thanks to DA."
Unfotunately, many classes have been cancelled due to low enrollment. In other news, professors everywhere are very happy now that they no longer have to teach classes and can finally get back to their research.