The Flipside's Guide to Embracing Purple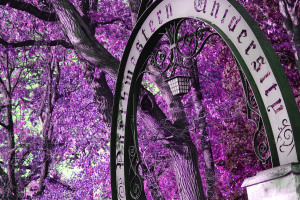 By Shira Zilberstein
Wear purple:
You can never go wrong with wearing purple. Just in case it's Purple Pride Friday, game day, or you feel your Northwestern identity is under scrutiny while rushing to classes, make sure purple is on hand. It's safest if your whole wardrobe is purple. It won't compliment your eyes, or deemphasize the redness in your skin—those are just potential bonuses—but wear purple because it is your destiny (or you've been too poor and lazy to go shopping for anything besides the 17 free purple t-shirts you get every quarter).
Eat purple:
Eating purple energizes your soul. No, not naturally purple foods like blackberries, figs, or plums (who would want fresh, exotic fruits in the dining halls?), but extra-terrestrial baked goods that enthrall with copious amounts of purple on purple decorations. Feel the purple grumble through your digestive system and challenge your colon with artificial coloring galore.
Follow purple:
The glowing purple clock tower located on the southernmost edge of campus serves as a compass to ensure no one will can lost meandering up and down Sheridan Road. When it's lit up purple it means we won a game, which conveniently seems to happen every single night. When stumbling home from North campus, just keep following the purple light and you'll probably end up South somewhere close to your dorm, or at the next best thing: Burger King.
Bleed purple:
Once you've bathed in, ingested, and been mesmerized by adequate amounts of purple, your organs will finally be acclimated enough to embrace it. Next time you forget your wildcard, prick your skin and the gushing purple blood will be more than enough to prove you're a Wildcat through and through. At worst, your purple bodily fluids will compliment the purple décor around campus and won't even stain your purple clothes. There's nothing to lose!