Donner's Party Ends in Disaster, Cannibalism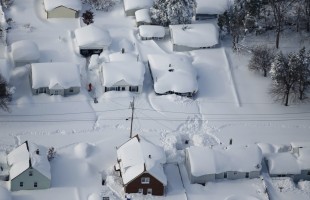 BUFFALO, NY — Matthew Donner's twenty-fifth birthday party took a terrible turn this past week when, while trapped due to heavy snowstorms, Donner and his twelve friends were forced to eat one of their own.
Donner's party was only supposed to be a short affair, survivor Katie Windstrom revealed. Windstrom, who is dating Matthew's older brother Michael, was planning on staying for only a glass of wine and maybe some cake before leaving to go to a bar with a few work friends. Sadly, by the time Matthew had cut the cake, the roads were already impassable.
Donner had reportedly not been to the grocery store in some time. According to old college buddy Greg Olwell, "Matt had a case of lite beer, a couple of Otter Pops, and two handles of vodka. Once we got through the two bags of Doritos, we had no other choice."
After calling Domino's and finding out that they would not deliver, the party members had to make a difficult choice. After drawing lots, the starving group members were forced to kill and eat Samuel Crafice, Donner's twenty-three–year-old coworker.
Both the FDA nor FEMA specifically advise against cannibalism, especially as a last resort. In a recent interview, FDA spokesperson Irene Peabody cautioned, "Eating Homo Sapiens, especially undercooked Homo Sapiens, can lead to various diseases, social stigmas, and even death."
When informed of the events in Buffalo, FEMA spokesman Dale Whittaker advised, "Good things to keep in mind for the coming season: stock up on canned goods and bottled water, just in case a snowstorm hits. Make an emergency kit. Also consider adopting a dog or a cat as an emergency food source.
"Take steps to keep yourselves safe, folks," he finished. "Especially from the other folks you're going to be trapped with."